There isn't enough data to analyze an increase or decrease in crime levels during the pandemic. Some indicators show surges while others show massive declines. However, it is possible that with the latest viral wave brought on by the holidays, we're apt to see increases. With no stimulus relief and the impending doom of unemployment come December the 31st, we could see a rise in crime rates. Homeowners should start thinking more about security options, including security drone technology, to protect home, life, and family.
Drone Security Activity.
Adding a drone to security options is relatively new, but don't let that be a deterrent in your decision-making process to add it. Drones have a variety of features, and we recommend that you go for the whole enchilada.
Drone security works in this way. When a homeowner arms their security system, it brings online sensors strategically placed throughout the property. When a sensor gets triggered by an intruder, the alarm system immediately orders the drone to take flight and begin recording video and sound. Drones are programmed to go straight to the sensor area where they detect motion, zoom in their camera view, and follow the activity as it moves on the property, all while recording and sending the live feed to a DVR, PC, phone, or smart device.
Meanwhile, the security system is alerting the authorities. Some security drones have the option of a live video feed. When the police arrive, they have a bird's eye view of the property and know what area they need to respond to. Such capabilities keep them safe, and everyone else out of harm's way. The perpetrator is dealt with quickly and efficiently with little risk of injury to anyone.
Drone security is also effective for other emergencies. For example, if a fire emergency breaks out at home, the drone operates on its stored battery power, so even if the house loses power, the drone still works. It can switch from WiFi to network when needed, in the possible event that WiFi has lost power or destroyed. Again, the drone can send a live feed to responders showing them the exact location of a fire, which aids in faster response time and could save lives. Thanks to a drone, fires are dispatched quicker, lessening property damage and total loss of homes. There may be some insurance savings for having this feature as well.
Drone Housing And Maintenance.
Drones are housed inconspicuously and are generally undetectable. One would need to know what they were looking for to find one on a property. A drone's housing may be in-ground, in shelters above the ground, and on rooftops. The housing works in unison with the drone, opening on the drone's command when it needs to fly. There are various housing units to choose from, and most are designed to keep the weather at bay and climate-controlled to protect the drone inside.
Maintenance seems to be simplified, requiring the most service to replace propellers. The security system, including the drone, should be tested frequently to ensure that it is fully operable for any emergency. It's no different than trying your detectors and alarms to make sure they're working correctly; add the drone to the test.
Drone In Pursuit/Recovery And Homing.
Some security drones can track perpetrators and follow them, leaving a trail for authorities to follow. The drone emits a beacon, much like a rescue beacon, giving its current location while sending the live video feed to authorities. It's advantageous in recovering property stolen from you by the perpetrator. A criminal that experiences apprehension because of a drone may have second thoughts about future criminal activities. Nobody escapes the eye in the sky, and that's why police use helicopters. We use security drones for the same reason.
Drones can be expensive, and we want to ensure that they can return home or be recovered after their mission. Most drones, especially the high-end drones, have home programming capabilities that enable them to return to their home-pad on command. Even some of the less expensive drones, or pleasure drones, have this feature. Drones can also be recovered on location by their owners or the authorities. Recording your drone's serial number with local police agencies is a good idea. It allows them to notify the drone owner that it has been recovered and is available for pickup. Drones help build more substantial cases against criminals with the videos captured by them.
Recommendations.
As with any smart home feature, we recommend that a professional, smart home integrator does the installation. Do-it=yourself models tend to cause issues and lead to problems later. Smarter Homes of Austin is just one of the best examples of a smart home integrator with staff and partners on hand to deal with all home technology aspects, even smart security.
Adding a drone to your security lineup can help guard your home and family during the tough times ahead if there is an increase in crime levels. Why risk it without one?
What used to be just the place we lay our heads has become so much more as a result of the global pandemic. The full-scale impacts are inconceivable.
As we reckon with this year of change, one thing that we need to acknowledge is our energy consumption. From lights and HVAC systems to WiFi and phone bills, residential utility usage is on the rise. The renewable energy company Arcadia found that just before the summer, consumers were expected to see a 10% increase in their utility bills for June, July and August. That percent increase doesn't even include summer electricity bill surges. Pre-pandemic, the US was on track for a steady increase in annual energy consumption in all sectors. However, with everyone spending a lot more time at home, the brunt of that usage is now falling on residences.
Smart Homes were created to counter situations like the ones homeowners are facing now. They exist to create efficiency and turn overwhelming amounts of technology into human-error-proof luxuries that operate self-sufficiently.
It's safe to say that between transitioning to a permanent work from home situation and teaching kiddos how to use Zoom, most families are having technological epiphanies. Shouldn't this be easier? Why isn't my Wifi more reliable? We used how much electricity this month? I wish this technology were simple enough for the whole family.
Features That Can Lower Your Utility Bills
Whole home WiFi is the true first step to creating a smart home. All smart technology functions on WiFi and without a reliable connection, it all falls apart. We recommend buying your own equipment from Ubiquiti, as opposed to leasing it. Their equipment gets you started with a hardy, reliable jumping off point. We also recommend hard wiring every instance of technology possible. This insures consistent performance. Often, customers are happy with their WiFi in some rooms but completely at a loss in the far reaches of the estate. We explain our solution to that in a video here, by installing extenders.
Smart Appliances transform your home into a more efficient space. We are referring to those appliances that can operate without manual control – such as a water heater or thermostat. When you allow a tech integrator to automate these appliances, you can place them on schedules that work around your family's life. Schedules reduce wasted energy use and your utility bill.
If you're tired of using a dozen remote controls to watch TV versus Netflix, or game versus play music, we have a solution. When you integrate your home technology, you can distribute content across the home from one simple remote. We use RTI's control options – and there are plenty of them. It doesn't just work for home entertainment either! These controllers will manage any system you have automated: lights, security, thermostat, etc.
Speaking of security, there's not a single feature that brings more peace-of-mind and convenience than an automated security system. Imagine locking or unlocking doors from your personal device or opening the garage to receive a package, ensuring it's in place via remote camera feed access when you aren't even home. The automated security system, installed by Granite, allows remote access to locks, alarm systems, smart doorbells, and gate and garage control.
The final home upgrade we want to discuss is energy monitoring. Smarter Homes can equip you with the ability to see real time watt usage rates in your home via a smart meter. That way you can see if all these smart home features are making a dent in your usage and then cater your scheduling around peak use hours. It also helps you keep track of any forgotten lights or devices that are still causing an energy spike.
Next- Level, Zero Waste Automations
Putting your blinds on schedules is a next level option for conserving resources and adding a touch of elegance. If you're away from the home or not using certain rooms at certain times, there is no reason for sunlight to stream in and heat up your house. Take a load off of your thermostat with scheduled blinds and shades.
The opportunities for irrigation scheduling is are absolutely superior to any kind of do it yourself lawn watering timers using Rachio. With smart irrigation, sensors can detect precipitation levels in the solid and humidity levels in the air so that watering is only happening when absolutely necessary. Reduce your water use and waste with a smart irrigation system.
Solar is truly the way of the future. It is the most abundant, inexhaustible, renewable source of clean energy that is available to homeowners. It is a low-cost, easy installation process that can transform your home's carbon footprint for the better. We have a great breakdown of the application of solar power in our feature of The Verge's Home of the Future.
Thanks for reading about our top energy saving features. For any questions you may have about efficiency, automations, or just general home technology problems, don't hesitate to contact us.
There's No Question That The Pandemic Has Changed Things, And Living As We Know It Will Never Be The Same.
People with home technology find that the constraints of staying home are easily more bearable with smart devices and apps. Homeowners are creating home offices so that they can work from home. Classrooms are being implemented into the house so that children can attend school at home. The smart home can deliver many features to make staying at home less monotonous.
One Of The Essential Features Of Home Technology Is Security.
Video doorbells, smart locks, security cameras, motion sensors, alarms for smoke, carbon monoxide & intrusion, motorized shades/blinds, and automated gates and garage doors play an important role in keeping you and your family safe.
Whole-House WiFi Keeps You Connected In And Around Your Home.
As mentioned earlier, some homes now require a home office or classroom, and it essential that these rooms have access to WiFi to keep earning money and learning. However, those aren't the only rooms that require WiFi.
Much of home technology needs access to WiFi for entertainment, ordering groceries, controlling automation. For those expansive homes, WiFi expanders make it available everywhere on your property. You never have to worry about a dead signal spot.
Stream videos in your home theater or have your fridge inventory and order groceries for you. Voice assistants like Alexa need access to the network. WiFi is becoming more of a necessity in any home, even the simplest of homes. It also keeps us connected socially.
Home Theaters And Media Rooms Entertain And Keep Us Informed.
There's nothing like family time at the end of the day, and a home media room is just the ticket for some relaxation. A home theater gives an actual theater experience, and many homes deck theirs out to be state of the art theaters. Both are great for streaming movies, playing video games, and the occasional family zoom meeting with loved ones near and far.
Have a presentation to give for clients? Do it right from home, interactively standing in front of the large screen. If you're a teacher and you want to interact with the whole class, tile all of those young, eager faces upon your big screen. Host family karaoke night at home and stream it with family and friends. Just because we're staying at home doesn't mean that we can't have fun.
Home Automation Takes The Work Out Of Chores And Gives You More Free Time.
Take the hard work out of everyday living and let home technology manage the home while freeing up your time. There are many products on the market that help us do this. Automated irrigation systems such as Rachio help us keep our lawns and foliage looking great by automating the sprinkler system.
Irrigation systems can monitor the moisture in the ground and even regulate moisture for specific plant types. They conserve water by not watering when it isn't needed and watering more when natural moisture is not enough.
Monitor and regulate energy, shutting off those high power items like water heaters and unneeded heat and AC. Get realtime energy usage information on your phone or smart device. Smart thermostats such as ecobee are essential for regulating the home climate, adjusting temperatures by preprogramming to your comfortability needs.
Don't worry about the expense of hiring a caretaker for your pool and spa; with Jandy, you can automate cleaning and heating the pool or hot tub. Automatically test the water and add the correct amount of treatment to keep your pool or spa ready for use anytime.
Smart appliances, laundry becomes somewhat automated; the fridge can keep tabs on what it needs to order and add to your grocery list on its built-in screen. It can even automatically order from many of your favorite places to shop, such as Amazon, Walmart, and Target.
The Important Things To Remember Are That Your Home Is Your Refuge, And That Couldn't Be More True, Now More Than Ever.
Smart home technology is even more helpful during times like these because many issues are solved remotely. No need for a technician to show up at your door. Professional services take extra precautions to ensure that you and your family are safe, limiting the time they need to spend in your home and other measures, including distancing and rescheduling for later.
Still, having a home with technological advantages has made isolating at home easier, providing security, entertainment, and comfort. Please write to us and let us know if you have ideas to share about using home technology during our current situation.
Installing Smart security can save lives
protect your investment
Building or buying your dream home is no small feat. It's an investment of time, attention, energy, and of course, income. Protecting that investment is a no brainer. State of the art home security is a no brainer. That's why even at the start of the decade, 18 million home security systems had been installed in the U.S.
There are dozens of practical applications for a security system: door entry detection, security cameras, window break detection, fire alarms, CO detectors, flood sensors, etc. Most homeowners are used to juggling the many facets of their system individually. That means arming the alarm system through an on-wall panel, checking the status of the cameras through their own specific app, and checking their detector's battery life status manually.
Consider human error
That leaves a lot of room for human error and certainly explains why 54% of home security system owners are unsure of how to operate their system. Technology is here to serve us and when systems become overcomplicated, they lose convenience and therefore, their purpose becomes squandered.
But we'd like you to imagine a smarter security system. One that goes beyond just the practical use of keeping bad things from happening. Imagine a system that actually had a positive impact on your home's operation, convenience, and efficiency.
Let's explore some of the ways that a fully-integrated, smart security system can outperform your standard manual system…
Easy Access
With a fully integrated system, you will have access to security camera footage, door locks, gates, garages, the smart doorbell, and alarm systems, all from your personal device. As long as you have your phone on hand, you can check in on your home from anywhere in the world.And that extends beyond just uses for safety. That means granting access to visitors and increasing convenience tenfold when you go out of town.
Occupancy Detection: Safety, Efficiency, and Priority Users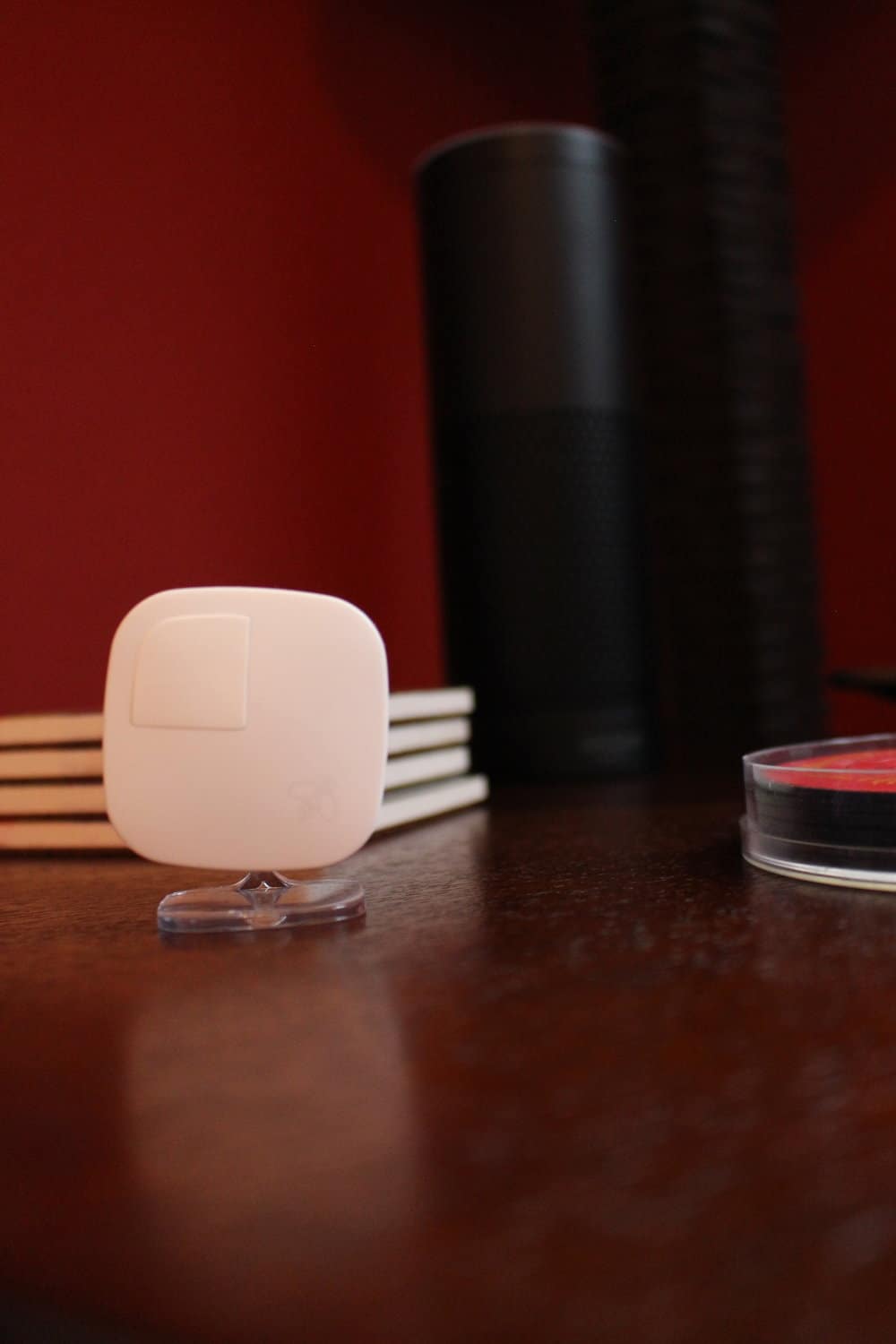 Being able to access and control your home's entry points and security with such ease means that when you do get notified that movement or occupancy has been detected at an unexpected time, you are completely in control.
If you sense foul play, you can alert the authorities before a break-in is even detected. Or, more harmlessly, let's say the visitor is someone you know or is delivering a package, you can communicate with them through your smart doorbell and choose to grant them access to your home or drop the package safely and avoid theft.
Sensors throughout the home and personal device locations detecting occupancy do not only serve to protect you from intruders and alert you of visitors, although that is their most implicit function. These sensors can also assist you in transforming your smart home into a green home.
When no one is home, or even present in certain areas of the home, sensors can trigger things like lights and thermostats to go to their "away" settings. This is something you can choose to or automate or simply check the status of when you are away. Ultimately, having your home know whether or not you are in can save energy and money.
Especially for those living in Texas, as the majority of our clients do, we are paying some of the highest average electrical bills in the country. The craziest part of getting a utility bill for over $125 is not even knowing what's draining the electricity in your home. Is it the lights, the washer-dryer, kitchen utilities, TV or sound system? Who knows.
Well, education is the first step to efficiency. With occupancy detection, you can not only greatly increase your awareness about the goings-on in your home, but you can also give priority to certain occupants.
Based on whose personal devices are present in the home, access to devices, bandwidth, and control will be prioritized in accordance with the hierarchy you set. That means that the downstairs office video conference takes precedence to the gaming party on Xbox upstairs when it comes to network access and speed.
Custom Scenes: Away and Stay Settings
When all of the technology in your home is wired and integrated into one central system, the opportunities for automation based convenience are abundant. You can create custom home scenes that synchronize all of the technology of a room to a certain mode.
For example, dinner time may turn off all of the lights in the home except the kitchen and dining room, turn on some light, smooth music, set the thermostat to a specific temperature and power down all gaming devices and TVs to signal to the kids it's time to eat.
As it pertains to security, there are two major home "scene" settings we want to highlight for you: away and stay. By letting your home know that you are away, all of the tasks you might have previously running around doing before you walk out the door will be done for you. Your system can, for example, turn the thermostat up, turn off all the lights, lock the doors, arm the security system, set the pool in cleaning mode, run the irrigation, etc.
But if you're in for the night and you want your home to know you are here to stay, it can still lock up and secure the home for you but may not automate the lights to turn off or expect the home to have zero occupancies.
These two settings will streamline your routine, save you time, and ensure that everything is in its place when you step away or settle in.
Energy Monitoring: What's Using Watt?
All of this awareness, sensing, detection, and automation culminates in the energy monitoring feature. Energy monitoring does just that – it keeps an eye on your energy. But it's more nuanced than that.
Our energy monitoring system will tell you exactly how many watts of energy your home is using at any given time, what specifically is using those watts, what your usage is looking like for the month, and gives you an instant reading when things change.
When your security system is in sync with the rest of the home, you maximize efficiency by minimizing waste. You can't forget that lights have been left on when you can see what's on in real-time. You can't waste cold air when the thermostat knows no one is home. You can't overwater your lawn when sensors check the soil and weather channel before triggering the irrigation system. You get the idea.
The whole idea is to remove the possibility of human error and allow integrated automation to keep your home running smoothly on its own. Energy use is a big part of that. We've gone as far as putting the hot water heater, coffee pot, and HVAC system all of a schedule based on the day of the week to reach maximum possible efficiency.
Hack my Home, I Dare You
With total access to your home on your personal device and door locks that open via WiFi, smart homes create a whole new security issue: Cybersecurity. The hacking of smart homes has become a hot topic in the media, warning homeowners that the more invested they become in the internet of things, the more susceptible they are to hacking.
This risk is completely valid and substantial. When you connect a myriad of household devices such as lightbulbs, vacuums, and pool cleaners to the WiFi network, yes, you increase the number of avenues in which your home can be hacked.
What most people don't understand is that the majority of vulnerabilities with hacking happen during the Z-wave setup process while you're "discovering devices" on setup protocols. After that, the managed network is the security point that blocks hackers from getting to the control and feedback portion of the devices.
Access boils down to the network. Only those with an in to the network have control of the home features connected to it so the key to creating a cyber-safe home, is creating an incredibly safe network.
The WiFi network of a home is always the first place we start with any project. That's because a smart home can not exist without a network and so it is absolutely essential that customers understand the importance of creating a reliable, managed network before they jump into any of the flashier smart home features.
We urge all of our customers to buy their own equipment for said network: modem, router, the works. We trust Ubiquiti for all of our installs because they create heavy-duty, dependable, top of the line equipment.
We also hardwire the vast majority of customer devices and features into the home. Wiring a home may seem like an outdated practice but you're going to have to trust us on this one. "While wireless is convenient and popular, ask any electronic systems contractor and they'll tell you that a wired connection is more reliable, secure and consistent."
That's because when we wire a home, we exponentially reduce the factors that could cause a home to go offline. Think of it like having a backup generator in case of a storm. It's just the smart option.
By building your own managed network that you allow you integrator to construct for you, you take out the middle man, removing outside sources with access to your network, and become the sole owner fo your cyberspace.
To test the reliability of the system, we have hired hackers to attempt and break into our home systems and no one had been able to because of the secure and personal way in which they are built for each home.
Smarter Homes goes above and beyond to ensure the security of our systems. Safety is the number one priority of Smart Homes. Convenience, luxury, and energy efficiency can only exist and serve the customer once the home is safe and sound.
Video Doorbell Installation – Easy – Not So Easy – Harder
Some video doorbells are very easy to install yourself while others require planning, the proper wiring and expert network and security knowledge . Lets outline the top 3 doorbell solutions so you can be prepared and know what to expect
Nest Hello: $229 + Cloud Fee
Easy to Install (DIY)
If you're looking for a video doorbell that is very fast and easy to install yourself as a DIY solution, the Nest hello doorbell is perfect for you. The video doorbell itself is powered by the same transformer that is used for a standard doorbell chime system which is already in place in most existing homes. This means the installation itself can take minutes if you have a drill and basic tools in your toolbox. As always Follow the instructions!
Check Compatibility with the existing chime

Start the setup on the App

Install the chime connector

Install the doorbell

Finish setup on the app
Ring Video Doorbell 2: $199 + Cloud Fee
Very Easy to Install (DIY)
If your home does not have a standard doorbell and chime installed and you really need that extra layer of security, it's best to go with a battery powered Ring Video Doorbell 2.
Charge and install the battery

Start the setup on the app

install the doorbell

Finish setup on the app
Doorbird Video Doorbell: $416 – No Cloud Needed
+ Professional Installation Costs
Harder Advanced Installation
suggestion: hire a Professional
If you have a custom built home with a home automation system like Control4, Crestron or RTi, Doorbird is a great choice for adding video doorbell security to your smart home. Chances are your home has been Prewired with Cat6 all throughout the home and the front doorbell location was no different. The Cat6 will be used to send data and power over POE (power over ethernet) technology and make this the only video doorbell solution that will not be dependent on Wi-Fi signal strength or removable battery levels.
Make sure your home is prewired with cat6 at the front door (wires run to your network closet)

Terminate your Cat6 cables

Install your doorbell

Plug the Cat6's opposite end into the POE network switch in the network closet

Connect your personal NVR recording hardware to the network for local recording

Finish setup on the app
What about the cloud Recording?
Nest Hello: Will not work without an internet connection – It requires the cloud
Ring Video Doorbell 2: Will not work without internet connection – it requires the cloud
When talking about cloud recording and data, you have to ask yourself if you trust the cloud. Some people don't like having there activities documented by large corporations who "promise" they are not using or accessing your data.
FAQ's
Will this product last outside in the heat or rain?
Does this doorbell work with other smart home devices and platforms?
Do you want monthly Fee's for recording?
Suggestions for a school kid smart home.
Keep you children safe – Monitor them while your away
It's very common these days for both parents of a family to work and do so with school-aged children still at home. If this is your family, you have to ask yourself, "How do we keep our kids safe and on task when they get home from school?" At Smarter Homes of Austin, we have the perfect solution.
Let's start with Security. As a family company, we want to make sure that you have the proper smart security system to keep your kids safe when they arrive home from school. Here are some suggestions that we recommend for a smarter, safer, family.
Smart door locks are essential for school kids, and there are several options to get them inside quickly without having to fumble with keys. Keys are easy enough to use but they're small and can be hard to find in a backpack or book bag, not to mention they're also easy to lose. There are smart locks that you can consider that take the uncertainty about keys away.
Touchpads and buttons are an easy solution. Assign each child a code to use on the numbered keypad to let you know who's coming and going. These types of locks provide a quick entry and you can program the door to automatically lock after your kids are safe inside.
Fingerprint recognition smart locks use biometrics system to identify an authorized person thumb or fingerprint to unlock the door. These locks are also programmable for automatic locking and provide an even quicker entry as it only takes one touch for a read for entry.
Proximity smart locks are efficient in that they do not require interaction with the locking device. Assign each of your children a tracking device, a fob or micro-chip-reader, and when your children arrive home the lock senses the tracking device and unlocks the door automatically.
Facial recognition technology isn't widely used in residential situations, but it is still available for use in smart homes. A stand-alone camera or integrated video doorbell simply recognizes a persons face, authorized for entry. It's very secure in that if it doesn't recognize you, the door stays locked.
Keep in mind that you can monitor your kids remotely to ensure their safe arrival home from school with your smartphone or electronic device. Even though you're away or at work your presence at home is always there.
The video doorbell serves several functions from watching who's coming in and going, controlling deliveries, and autonomous living inside without anyone knowing whether or not you and your children are home. The kids can easily contact you through the video doorbell and your smartphone, if there is a lost phone or forgotten code to get in, and you can relax away from home knowing that they have a way in and inside.
Monitoring the activity of your kids at home is a very good reason to have security cameras in and about the house. Again, we're going to rely on our smartphone to keep an eye on things. With security cameras, you can see who came home with which child and the knowledge of who is in your home at all times. Ensure the kids are doing their homework and chores. If the TV, game controller, or computer becomes an issue, remember you're in a smart home and you're in control. You can set limits on entertainment access and keep them on track visually and with your voice. Security cameras are a big plus when it comes to kids alone at home.
When the homework and chores are done keep the kids from getting restless with the entertainment smart home style. Control what they watch and hear, when they watch and here. Program movies in a smart home theater, lock and unlock access to the pool.
You can also reach out to your kids and communicate with them at any time for the times when they need help with homework, ask what's for dinner, or they just need to talk.
Your smart home family will appreciate all of the things that you and your home can provide. At Smarter Homes of Austin, we know what it's like being parents and having kids in school. We are a family-oriented company with the safety of your family in mind.
Visit us online or follow the link to create a budget for your family home today.
Experience security while you're away on vacation.
It's Easy.
At Smarter Homes of Austin, you can get away without anyone ever knowing that you left. Smart installations can include smart security and video doorbells to keep an eye out for you. Let smart home technology do the work while you relax worry free wherever you are, worldwide.
Conversations through your video doorbell never give up the secret that you aren't home. You can see whomever is at your door without them seeing you. Give special instructions to delivery drivers, friends, and relatives.
Maybe relatives or friends show up unexpectedly but you aren't due home for a few days. Don't cut your vacation short. Install a smart lock to let them in or assign a temporary entry code and text it to them. They'll appreciate the hospitality.
Your smart cameras are the guards of the castle and with a smart security system to notify the authorities when there is an emergency or something isn't right. Get real time alerts wherever you are, anytime, day or night.
Take the first step of enjoying your time away from home even more by following this link to our Smarter Homes create a budget form.
Smarter Homes is A Home Automation Company focused on adding Luxury to austin lifestyles
Simplify Home Technology with Whole home App Control
July 24, 2019 – by Sarah Yoakley
Where controlling your home's technology with the Push of a Button may be a game changer, using app based control from your personal device will change your life. Here's why:
Security Systems and Peace of Mind
When there's a knock at the door, whether you're home or not, you check up on who is on your property through your control app. With Smart Doorbells and a custom Security System, you'll be able to see and speak to your guests. You can even have mail carriers leave packages in your garage and close up after them. That means you avoid unwanted intruders and theft.
Smart Home Convenience
This is perhaps the most obvious beneficial change but also the most drastic. With app based control, you can access your home from anywhere. That means turning on or off things you forget, Letting Guests In no matter where you are, and saving yourself time and energy. Not to mention app control is incredibly easy for the whole family to use. Say goodbye to technological hassles when it comes to Audio and Video.
Home Energy Efficiency
Never wonder about your energy bill
Having constant, convenient access to your home means less things slip through the cracks. One look at your interface and you can see any sources of power in use. By Monitoring Your Home's Energy use this way, you can reduce your carbon footprint AND the dollar sign on your utility bill each month. And without having to run around the house switching Off Lights and adjusting the thermostat each time you leave, you save personal energy too!
Smart Home IP Security Cameras
Ultra-Sharp Resolution
5MP delivers footage that will wow your customers. With resolution even higher than 1080p, our 710 series cameras offer among the best analog video quality.
Improved Night Vision
Great daytime shots are nice, but Starlight improves nighttime performance – a critical time for capturing surveillance footage. These cameras automatically adapt to changes in light. With enough ambient light, Starlight technology can provide a detailed color image, improving nighttime clarity.
Embedded Intelligent Analytics
Based on state-of-the-art computer vision algorithms and over fifty years of research and development, Smarter Homes cameras were chosen specifically to continuously adapt to their surroundings. When properly configured, embedded intelligence tracks objects and makes automatic picture adjustments using seven main configurable rules, resulting in up to 90% fewer false positives. Please note that results may vary based on site layout and camera positioning.
Virtual Tech Configures Cameras
This expert service configures our intelligent cameras for you, so all you have to do is physically install the equipment. Once it's installed, our VT technicians gather camera-specific information to program and optimize picture quality, configure analytic capabilities, and set up system alerts or email notifications for your customers.
System Design Service
Let us help you create a comprehensive surveillance plan. Smarter Homes design service uses basic property information – submitted by you – to create the ideal custom system design for any job. We can even put together multiple designs for the same location if you'd like to provide your clients with basic and comprehensive options. Get started by requesting a plan or give us a call
1) Enhance Home Security
When it comes to smart home security, smart locks have brought about a new level of home safety. When you install Z-Wave connected and integrated smart locks into your smart home design, you are guaranteeing yourself peace of mind by knowing the status of your locks at all times. If you forget your house keys, you panic. That isn't a problem if you have smart locks. Unlock doors automatically when your are in close proximity and re-lock them again when you are out of range. Use your smart device or phone to unlock doors remotely. Keep track of home traffic and schedule the times that automatically lock your door. Now you can limit the copy of keys handed out and control your door as you see fit.
2) Protect Mail And Deliveries
According to Sell Central, 11 million parcels are stolen from doorsteps every year. With smart locks installed by Smarter Homes, you can unlock the front door or delivery bin for deliveries left when you're not home. Ensure your deliveries are safe from theft, anytime, anywhere with the help of your delivery doorbell.
3) Remote Access and Monitoring
Give unexpected friends or family access to your home when you're away. Smart homes with smart locks allow you to grant access by unlock the doors for them when you're away. You can assign permanent or temporary codes for guest access. Smart locks are also a great idea for roommates, vacation homes, and house sitters.
4) Elegance and Style
Smart locks come in all different shapes and sizes with a broad selection of features. With automated locks being one of the very first of smart home automation features to exist, there are a wide variety of looks, types, and even feels when choosing your locks. Take the deadbolt to a whole new level that looks like a standard key lock but can open with just a touch from the finger of anyone that the lock has been programmed to recognize. At Smarter Homes, we'll help you find the smart lock system that exhumes style and functionality.
5) Integration & Customization
We're thinking ahead and ensuring that you're educated about how your smart lock system works and its capabilities. At Smarter Homes, when we're designing a smart home system we're thinking of how everything connects to the brain of the smart home. Our smarter integrators tap into the very latest smart technologies staying in line with the style and functions of the locking devices that you've chosen. Some brands of smart locks aren't always compatible in that they have closed API's (Application Programming Interface), which is self contained and not able to communicate with other devices or the smart home hub. However, a solution can always be found by exploring different smart lock brands to find similar styles that have open API's and can talk to any system.
Smart Lock Systems Integrated Into Your Smart Home Technology
Make Automated Home Security Its Safest